The C1Store, had it's up and downs over the years, and after 10 years the software and indeed most things were outdated.
So, it's being phased out and totally replaced, which was no mean feat for the hundreds of stock items. This has been a large undertaking, to reflect the continued support the store and the club have in our cars.
Other changes include the removal of many out of stock and back order items to stop people buying them and then being unsatisfied with the availablity, it means a slightly smaller range, but all the important products that the store did best, i.e really good Service Kits, are all there as usual.
C1OC forum members now get an discount, by entering C1OC into the discount coupon box at checkout.
We have the backing of a large motor factor now, which increases the availability and speed of delivery and new courier contracts too.
The cars are now split into their own sections and only the particular parts for each are listed in each section.
http://www.citybugstore.co.uk
will take you to the new shop
The old store will remain open for the short term also.
_________________
Was 05 C1 1.0 White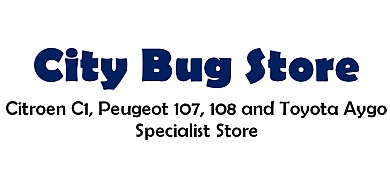 The NEW improved CityBugStore! - For all your C1, 107, 108 and Aygo needs. Support the club! Club Members Discount, enter code C1OC at checkout