Part 3
Making a Statement

Forrestburn was a bit of a dream really. The layout was altogether more interesting, offering the opportunity to put on my dancing shoes and really throw some shapes.
With the revisions I had already made to the handling I came into this one a lot more confident that I could put in a representitive performance.
It would be the standard format I was now familiar with - practice in the morning , timed runs in the afternoon - and as per my usual form I was the last competitor to arrive.
No time to walk the track then. I think I got 2 runs in the morning.
The layout had a lot of opportunities to gain, or lose, precious tenths. After a nerve-racking blind crest, the opening esses were all about getting the line right -
almost flat in the 107 with an appropriately timed dab of lift-off oversteer to set the car correctly at the apex. This led into a tight square left hairpin reminiscent of Fintray where
braking was critical to avoid going deep and traction on exit would be paramount to propelling the car into the tight sweeping section which followed.
Less haste, more speed.
As a musician there are parallels which can be drawn to driving fast - If you rush the performance of a piece of music it will fall apart very quickly and sound amaturish.
For it to work, the notes have to fall where they are supposed to fall in time regardless of how eager you are to play them. Brake here, turn in here.
Then, once you find that groove, you become present in the hundredths and not just the seconds; feeling out the rhythm and sustaining that note as long as possible - before you hit the brakes.
Get it right and driving on the utmost limit is the calmest place you can be.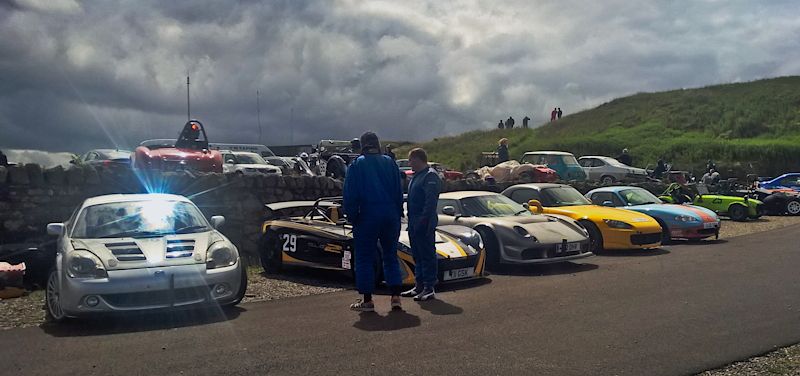 I was enjoying this one. The change of location brought with it a host of new faces to gawk at too. MX-5's, 205's, a 2-Eleven and even a Noble M12.
Competition in my class was pretty sparse with just the 1360cc Saxo of Laura Ramsay to contend with but alas I was here to please only myself.
Practice complete and a chance to recap - I was just skirting 1 minute and so my objective for the afternoon became clear - I would not leave happy until I'd broken the 60 second mark!
Fuelled by grilled meat and focused on what I must do, the wind picked up as if stirred by the fire I had brewing inside. Where were my Rennies?
We lined up and the timed runs commenced...
I managed to fit a GoPro for this meeting, offering an accurate account of my fastest timed run to reflect upon later.
Given my lack of track knowledge - I was a bit cautious at the crest and then went for the following apex a little early, had to scrub a bit of speed and nearly ran wide,
picking up a bit of grass in the process. It was messy but committed.
https://www.youtube.com/watch?v=YknsrzdzVHk
More importantly however, it was 59.44 seconds - within my personal target and just 3 seconds off the all time 1400cc class record.
I recalled Fintray and how I was a full 2 seconds down by the first split due to my straight line speed defecit alone..
The results came in.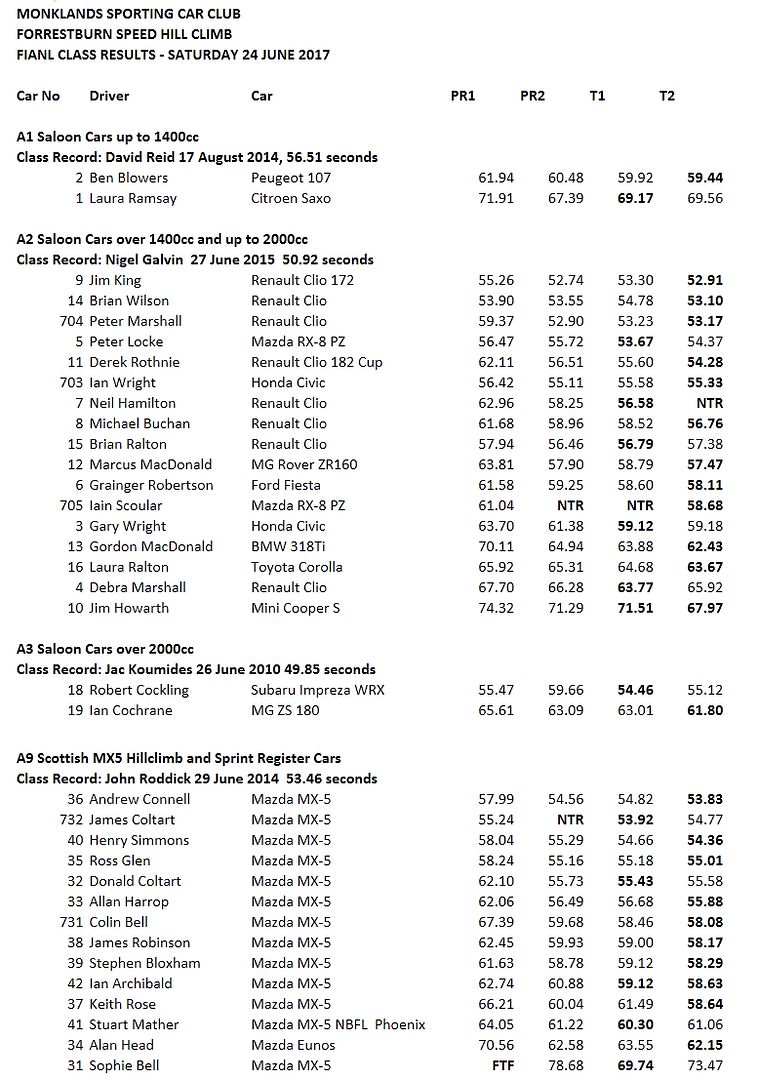 I'd taken the win by a sizeable margin as well as beating a good fistful of MX-5's, Clio's and the like from the faster categories.
Yep, despite the errors I'd made in the run, I could be happy with this pace!
We made the long drive home into the sunset to put a finish on this fairytale day.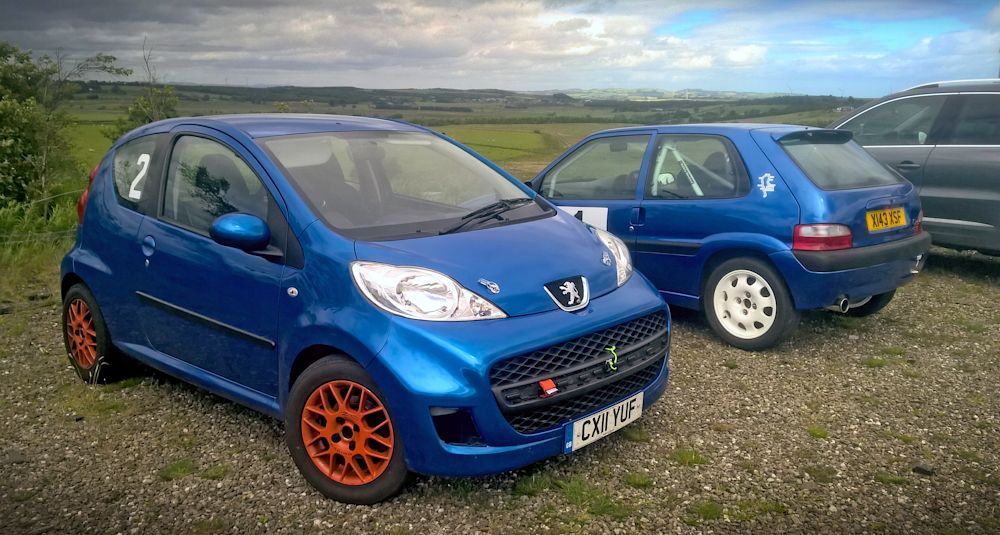 Refurnishing
After Forrestburn I got talking to a friend of mine who, it transpired, had an old Sparco Rev bucket seat that'd been kicking about his house for a while.
He agreed to letting me fit it in the 107 to see what like. You'd be surprised how heavy a standard seat on rails is - especially with an airbag hidden in the side!
Fortunately the sparco with its fiberglass shell and solid side mounts bolted right into the chassis where the original rails had been.
Much racecar. Such purpose.
If you've never sat in a racing seat bolted straight to the floor - let me tell you it is an experience! It offers a tactile connection to what the chassis underneith you is doing
like you couldn't imagine. Well worth the bruised hips I endured for the first few weeks whilst it broke in.
Along with this I made a switch panel from 2mm wet-lay carbon to blank the gaping orifice which had once housed the stereo.
I think before this point the car was having a bit of an identity crisis - People don't exactly look at a 107 and associate it with what I'm trying to achieve,
It was a confusing transition. With the addition of the seat and stripped back dashboard, it definitely took a step in the right direction from tack to track.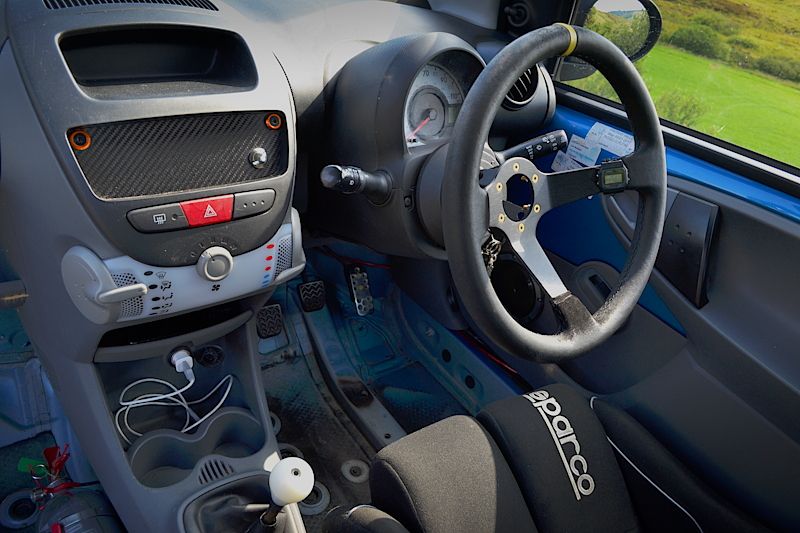 As I do far more miles on the road than I do in competition I also went to the effort of mounting a new stereo and amplifier on a removable plinth which sat in the back and offered
a bit of entertainment when I wasn't hunting lap times. As somewhat of an audio connoisseur, Vibe speakers and amplifiers are.. not the best.. but still vastly superior to the standard
speakers they replaced. The whole system unplugs and lifts right out when not in use.
The removal of the rear seats was again a step in the right direction and shifted the car's balance further to oversteer as I touched on in the last update.
Unfortunately this change wasn't permitted in the standard road car class which required all interior trim to be fitted, so I'd have to reinstall the seats when competing
in the upcoming hillclimb round - My second meeting at Fintray...
Stay tuned!