It's already been said in this thread, but I thought I'd do a small summary of the
clutch
adjustment
procedure.
So, standing in front of the engine, the gearbox is on the right, between the engine and the accumulator. Looking down, we will see two cables with rubber pipes one them. They are the gear select cables and I pointed them by pink arrows on the photo below. Below the two pink cables, there is another one (pointed by a green arrow), which is the one that we need to adjust. All three cables go towards a metal holder, whose aim is to hold and tighten the cables.
I marked the holder yellow: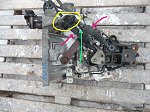 The metal holder is clearly visible here. Understandably, it has three holes for the three cables, two pink ones and the green one: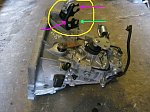 The photo below was taken from the bulkhead side and it shows nicely this plastic
adjustment
nut. Needless to say, standing in front of the engine, we'll in no way see it, so we just need to feel it by hand: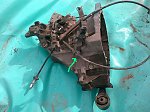 And now the
adjustment
. So we are standing in front of the engine, put the fingers deep towards the cable holder and try to feel the
adjustment
nut on the
clutch
cable (the green one) If we turn it clockwise, the
pedal
height will go down. If we turn it anticlockwise, the
pedal
height will go up.
My
clutch
was dead high, so I gave the nut two or three turns clockwise and it's much better now.