I replaced the pump myslef and thought i'd do a little how to:
1. Buy a new pump ( I recommend GMB, never Aisin again)  and a new belt. Make sure the new pump set includes a gasket.
2. Take off the front bumper (a 10-15 minute job) as the access from the front is much easier than from underneath
That's the view from the front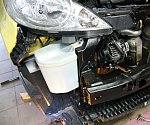 3. Drain the coolant liquid by taking off a water passage at the bottom of the radiator
4. Loosen the alternator. First loosen the screw at the bottom No. 2 and the one next to it, ie. No. 3, whose aim is to tighten the belt. So as to easily put a new belt, we need to push the alternator back, so we will need to loosen the bolt No. 1 too and then push the alternator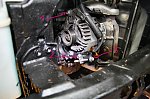 5. Undo the 5 bolts mounting the pump. Some more coolant will pour out.
6. Fit a new pump. Make sure you put the gasket the way the old one was fitted. My old gasket came off with the pump, but you need to fit the new gasket straight to the engine. However, as I said, take a closer look at the way the gasket was fitted: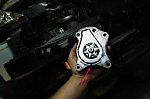 This little tail which I pointed in the photo above goes to a specially marked slot in the engine, which I marked below: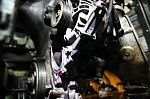 7. We fit a new pump, make sure you don't confuse the bolts, as there are two lengths
8. We put on a new belt, tighten it by bolt No 3 and then fit it hard by bolts No. 1 and 2.  
9. We refill the coolant through the hole with the metal cup, and then, the rest,  through the other one